The book promotional tour has started up again in February after a two-month hiatus. Along with appearances and podcast recordings, I've been doing interviews. Below are those articles, by renowned Madison writer Doug Moe in the Mystery to Me newsletter and a Q & A in the Sunday Best section of the Wisconsin State Journal.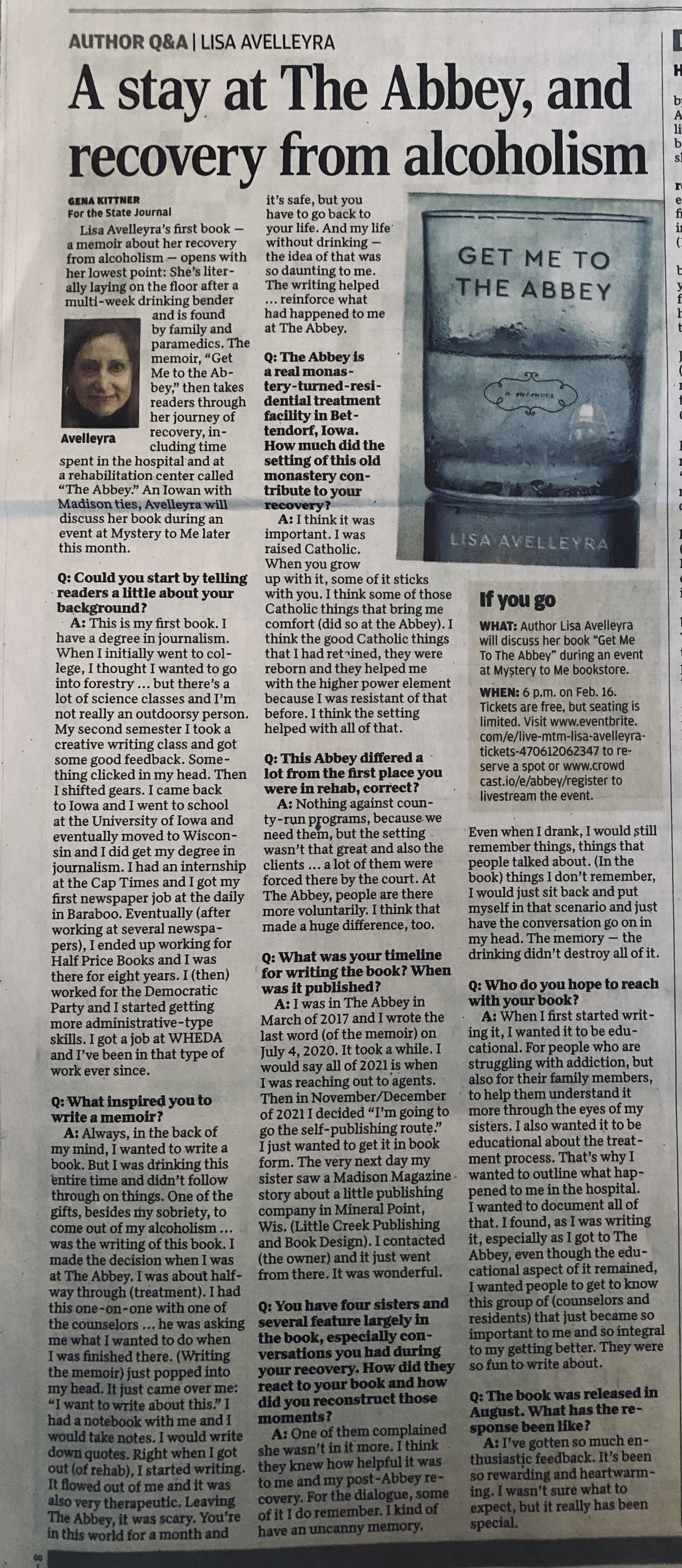 Doug Moe interviews Lisa Avelleyra
It was about halfway into Lisa Avelleyra's month-long stay at a refurbished Iowa monastery-turned addiction treatment center when a counselor asked her a question both simple and profound.
"What do you want to do after you leave here?"
This was March 2017. The facility was The Abbey in Bettendorf, Iowa. "He cornered me," Avelleyra recalled recently, by phone from Iowa City, where she has lived for the past decade.
"A thought popped into my head," she continued. "I said, 'I want to write about this.'"
The result is a new memoir, Get Me to The Abbey, which readers have praised for both its gritty depiction of the ravages of alcoholism along with the humor and compassion that can be found on the road to recovery.
Avelleyra will discuss the book and sign copies at a Mystery to Me event February 16 at 6 p.m.
That Avelleyra decided to write about her journey should not be a surprise. She has a journalism degree from UW-Madison and worked as both a reporter and bookseller. She spent 26 years in Wisconsin prior to returning to her native Iowa.
Avelleyra grew up in Fort Dodge, where her reading and writing dazzled her English teachers, at least until she was found with a copy of Rosemary's Baby, decidedly not part of the Catholic school's 7th grade curriculum.
After high school, Avelleyra attended Colorado State University, first studying forestry – too many science classes – and then finding a spark in a creative writing class.
"Something just clicked," she said. "I got good feedback from something I wrote."
It eventually led her to UW-Madison and a journalism degree. She spent five years as a reporter with the Baraboo News-Republic and wrote too for The Capital Times.
And she drank.
"Drinking was part of the newspaper culture," Avelleyra recalled, noting how Lou Grant, the irascible yet beloved editor turned news director on the "Mary Tyler Moore" show, kept a liquor bottle in his desk.
"I drank through my whole adulthood," she said. "It was part of my lifestyle."
Her stay at The Abbey was Avelleyra's second attempt at recovery. After her first time in treatment, she stayed sober for 18 months, but after taking a new job in Iowa City in early 2016, she started drinking again.
"I drank all of 2016 thinking I could handle it," Avelleyra said.
In December of that year, her mother died. Avelleyra's daily drinking – which had led her to call in sick for work – worsened.

"I just decided to give up," she said. "The physical addiction had become much worse. I just succumbed to it. I wasn't eating. I was drinking vodka straight out of the bottle. I was trying to drink myself to death."
She wound up unconscious on her kitchen floor. "I consider that rock bottom," Avelleyra said. Her sisters found her. She was hospitalized for a week, then took up residency at The Abbey. For Avelleyra, it was the right place at the right moment.
"I think it was my time to get better," she said.
She has high praise for The Abbey's professional staff and was grateful for the camaraderie of "my fellow Abbeyites," as she calls the other residents. "Both were instrumental in my recovery. I can't say enough good things about The Abbey. It was a blessing."
After telling a counselor that she intended to write about her experience, Avelleyra began taking notes for the rest of her stay.
"I had a notebook and I started writing down quotes and details," she said. "Things that were happening at group sessions and AA meetings."
Upon leaving, she started writing the narrative. "It kind of flowed out of me. It helped to reinforce everything that happened at The Abbey."
In Iowa this past November, there was a book signing for Get Me to The Abbey at the fine arts center in Avelleyra's native Fort Dodge. Her sister Cindy, who lives in Phoenix, flew in and surprised her. The local newspaper covered the event and a reader told the reporter: "The book is amazing, the book was moving. I cried, I laughed."
Avelleyra is six years sober this month. She's working on a new book, a novel – a murder mystery set in a bookstore.